BRASIL CINEMUNDI CATEGORY

Project: BAGHDAD - SCENES FROM A NEIGHBORHOOD | SP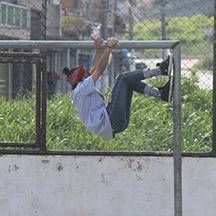 Portrays a group of women living in a blue-collared neighborhood of São Paulo. Bagdá is an androgynous 16 year-old skater girl. She is discovering her sexuality and is the magnetic center that pulls the group together. Her mom, Micheline has no propensity towards domestic work, and she finds her true calling as a singer in the bar next-door. Her younger sisters are Josi, the spoiled teenage girl, and Bia, who is obsessed with aliens. Gilda is a transvestite, owner of a hair-salon; her best friend Emílio wants to make a viral video just in case he doesn't survive his prostate cancer. Carlota is a metal worker organizing a strike. And Deco is Bagdá's best friend who has complicated feelings towards her.
Director: Caru Alves de Souza
Producer: Rafaella Costa
Production Company: Manjericão Filmes
Project: HIT AND BACK COPACABANA | MG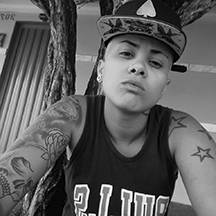 Paulinha was born on the same neighborhood she currently resides, in the outskirts of Belo Horizonte. She works in a little neighborhood store, where she spends most of her days. In between her daily activities, she commits small infractions and kills time with activities usually labeled as male — like playing vide game, snooker and soccer. She has always stood out in school and in her neighborhood. Her circumstance changes when she meets Priscila, who, as life has it, ends up becoming her best friend and roommate. With the opportunity of a day trip to Copacabana beach, in Rio de Janeiro, this relationship is tested. On the tour bus, Paulinha stumbles upon Gabi, her old crush, who gets involved with Priscila and derails the road trip. Affections and discontentments, urges and meanderings describe the girls' journey to Rio de Janeiro and their return home.
Director: Juliana Antunes
Producer: Marcella Jacques and Laura Godoy
Production Company: Ventura
Project: ANA'S FAREWELL | RS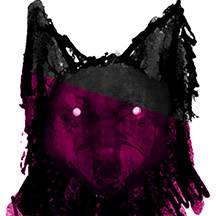 Is about three generation of women: Alma, Inês e Ana. None of them shared what they really wanted, said what needed to be said. It's from this void, of all that is left unsaid, that the narrative comes from. It's a fiction film focused on the tween audience. It tells the story of an 11 year-old girl named Ana, who, during the carnival holiday, goes to the country for her grandmother's funeral, whom she hasn't seen since a she was little. At night, Ana sees her grandmother's figure going towards the trees in the backyard, and runs after her, entering a great new world, filled with fantasy and mystery. Ana, despite being afraid, keeps looking forward to the chance of meeting her grandmother, getting to know her and, at last, saying goodbye. In her path, the girl stumbles upon fantastic creatures, some friendly, others treacherous, who help her, not only find Alma, but understand her journey.

Director: Luciana Mazeto
Co-director: Vinícius Lopes
Producer: Eduardo D. Piotroski
Production Company: Pátio Vazio
Project: UNSOUND | RS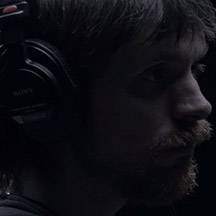 Is a feature film that intends to address the human dimension of the dark legacy of the Military Dictatorship. The character Jonas is a retired soldier admired by his family and country. He lives his old-age in peace. His macabre crimes were properly concealed and ignored through decades. His family is unaware of his atrocity — including his grandson, Ulisses, who admires him and has him as a role-model and hero, in such a way that he decides to shot a film about him, with his friends. One of these friends, the sound designer Vitor, finds tapes that hide the hero's dark past, unraveling the events of the story.
Director: Davi de Oliveira Pinheiro
Producer: Pedro Guindani
Production Company: Ausgang
Project: HORIZON | PR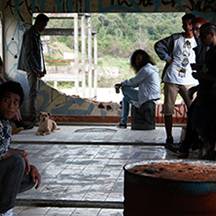 In HORIZON, we face the twilight of adolescence, which announces the birth of adult life. Fears and dreams, talents and limitations, sex, loneliness and friendship, it all oscillates between the glimmer of realizations and the shadow of frustration. Guiding us through the story, is Neto, who just finished high-school and, unsure which path to take, practices with his rock-band, fools around with his friends, flirts with his friend Ana and keeps working at a gas station. It's from the tobacco shop of this roadside gas station that he sees the comings-and-goings of the highway and dreams of the many roads he would like to take. In this inverted road movie, Neto and his friends are fixed in the shoulder of the road, and it's the road that moves before their eyes. HORIZON, the first feature film from director and writer Jessica Candal, was developed in the Núcleo de Dramaturgia Audiovisual SESI. In 2014, it won the Concurso de Pitchings do Olhar de Cinema - FIC. Currently, it's in the fundraising stage.
Director: Jessica Candal
Producer: Antônio Junior
Production Company: Grafo Audiovisual
Project: THE THOUSAND POPPERS | PE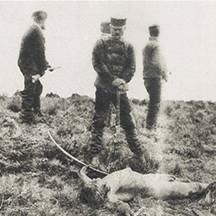 Directors and Producers: Sergio Oliveira and Mauro Andrizzi
Production Company: Aroma Filmes and Mono Films
Project: THE CLUB OF ANGELS | RJ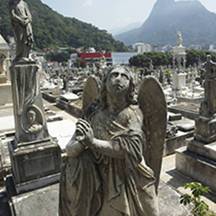 Director: Angelo Defanti
Producer: Bárbara Defanti
Production Company: Sobretudo Produção
Project: THE DAY THE FAVELA CAME DOWN| PE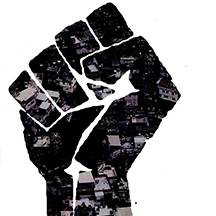 Director: Ludmila Curi
Producer: Mannu Costa
Production Company: Nome Plano 9
Project: SO FAR FROM THE CENTER OF THE EARTH | SP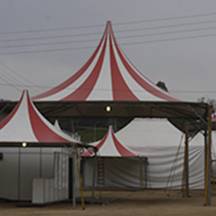 Four separate characters united by the same context of crisis and dilemmas brought on by the impacts of modernization. Boi, a young Guarani indigenous; Deyse, a teenager, the youngest of a family of small farmers; Bárbara, a stray wanderer; Joaquín, an Uruguayan worker who lives on the road. In the mosaic of their parallel paths, the tensioned balance of their identities in face of existential and social tremors is tested. SO FAR FROM THE CENTER OF THE EARTH takes place within the intimate chronicle framework, where the lyrical comes from the subtle unraveling of the private universe of each character. The narrative is built from the contrast between the depth of the subjective and the hash reality of the outside world. During the installation of an agricultural fair, in a small country town in the south of Brazil, the four characters follow their paths, marked by the wish to maintain their self-identity, going through the fragile process of change.
Director: Aarón Fernández
Producer: Rodrigo Sarti Werthein
Production Company: Acere Produção Artística e Cultural
Project: AUNT VIRGINIA | SP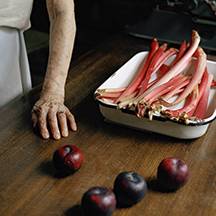 Director: Fábio Meira
Producer: Diana Almeida
Production Company: Roseira Filmes
DOC BRAZIL MEETING CATEGORY
Project: WAYS OF THE RIVER | AM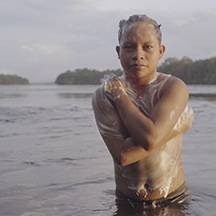 Álvaro Socot is a 19 year-old young man of the Hupd'äh ethnicity. He was born and spent his whole childhood in the Taracuá-Igarapé village, a five day boat-ride from São Gabriel da Cachoeira, on the border between Colombia and Venezuela. He is the oldest son of Isabel and Américo, and has eight brothers and sisters. The Hupd'äh started to increase contact with the urban center in 2010. This happened out of the need to issue documents in order to have access to social benefits and cash withdrawals to buy goods. Today, Álvaro lives with his family in Ilha Diamantina, in the Negro River, and is closer to the city. With his high-school diploma, and under his father's guardianship, he wants to move to the city and continue his education. The film is a portrait of this moment when growing up also means to leave a world behind. What will remain of it?
Director: Jessica Mota
Producer: Alice Riff
Production Company: Studio Riff
Project: VHSHIV | PE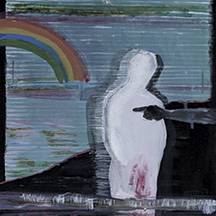 Director: Fábio Leal and Gustavo Vinagre
Producer: Dora Amorim and Thaís Vidal
Production Company: Ponte Produções
Project: A MOTHER'S CALLING | RJ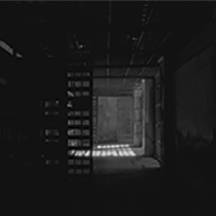 Director: Carolina Benjamin
Producer: Danielle Villanova
Production Company: Daza Filmes
Project: BREAKING IN STEP | RJ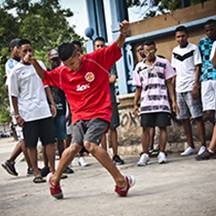 Is a documentary feature film that approaches the birth of two types of urban dances from different places: the Angolan Kuduro and the Brazilian Passinho. Both dances are from the internet era, born from the intense living experience of big urban centers, in the Angolan musseques and the slums of Rio de Janeiro. They break into the globalized contemporary world with their music styles that sing about the daily life in the slums, relationships and love interests, parties, besides having humorous lyrics, fast electronic drums and sensual dances. The Passinho and the Kuduro are both styles that are constantly coining their own slang words, creating a new anthropophagic language in the universe of the contemporary pop culture, crossing social barriers. By putting these dances together, it is possible to merge these cultures, that share the same language, colonial history, global context, but suffer from a profound lack of contact and concrete knowledge of each other.
Director and producer: Emílio Domingos
Production Company: Osmose Filmes Ltda
Project: WE ARE WHAT WE HAVE LOST | PR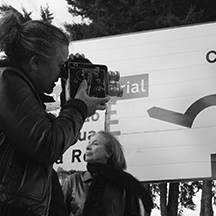 Director: Heloisa Passos
Producer: Eliane Ferreira
Production Company: Maquina Filmes
Project: HERE AND THERE | PR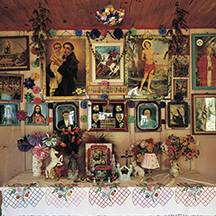 Director: Rafael Urban
Producer: Larissa Figueiredo
Production Company: Sto Lat Filmes
FOCO MINAS CATEGORY
Project: BRASILIANA - THE HISTORY OF THE AFRO MUSICAL COMPANY THAT PRESENTS BRASIL TO THE WORLD | MG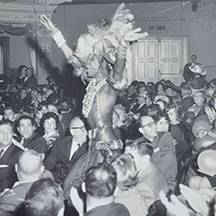 The documentary BRASILIANA – THE HISTORY OF THE AFRO MUSICAL COMPANY THAT PRESENTED BRAZIL TO THE WORLD aims at telling the story of the biggest Brazilian theater and dance company influenced by the Afro-Brazilian culture that has ever been heard of. During 25 years of activities, the group has been to 90 countries in different continents, discovered several talents and triggered countless important artistic performances both in Brazil and abroad. Equipped with interviews from former dancers, directors, researchers and an extensive archive material gathered from five years of research, the film reclaims the forgotten history of this dance company, besides addressing issues like the sexualization of the Brazilian black woman, the introduction of an international Brazilian image, and the discrimination and disregard towards Brazilian black artists.
Director: Itamar Dantas
Producer: Daniel Couto
Production Company: Impulso Projetos Audiovisuais de Juiz de Fora
Project: CEMITÉRIO DO PEIXE | MG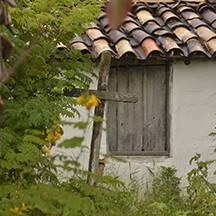 CEMITÉRIO DO PEIXE is set in a village inhabited only by the introspective Ariano and his mother, Salomé. Their daily life consists of preserving the local cemetery and house chores. Once a year, the place is swarmed with pilgrims headed towards the Feast of Saint Michael and All Angels. Ariano's peace is disrupted by three events: the visit of Elisa, the casual documentarist, who's there to record the religious event, and strikes a friendship with the protagonist; the enigmatic backpacker, Miguel, who goes through the village, and awakens Ariano's abilities to communicate with the souls of the place; and his mother's death, his life's only companion. In their own way, each of these events triggers in Ariano feelings he never felt. With his sanity compromised, he leaves the village.
Director: João Borges
Producer: Gilberto Cardoso
Production Company: Emvideo Eventos Audiovisuais
Project: ONCE UPON THE INDLENESS, ONCE UPON THE HEAT | MG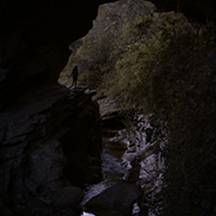 Is a feature film set in a dystopian future in the countryside of Brazil. The narrative portrays the personal journey of LIZ (26), a strong and independent woman, and her most intimate passions: an unexplained obsession with the Dancing Plague of 1518 (a French historical fact that resulted in the death of nearly 400 victims), and the desire she succumbs to. Guided by the character's point-of-view, the tale follows a logic, not based on reason, but more subjective and sensorial, at times introducing paradoxical or absurd elements. The film will also create a dialogue with contemporary visual arts in its aesthetic investigation, in the composition of flow and the materialization of the characters' acts of body performance. As well as a reappropriation of the science-fiction and erotic genres, by presenting this particular future, and Liz's desire, through the mechanisms proposed. This will be the first feature film directed by Eduardo Cantarino.
Director: Eduardo Cantarino
Producer: Leonardo Mecchi
Production Company: Dilúvio Produções
Project: NXIAMU | MG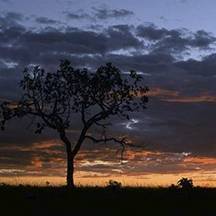 Directors: Maurílio Martins e Thiago Taves Sobreiro
Producer: Matheus Antunes
Production Company: Cento e Oito Filmes
Project: SOFT | MG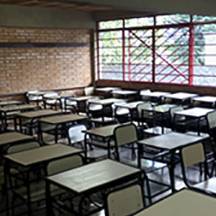 Is a project for a documentary feature film. It's currently developing its script, which presents as a theme the violent relationships nurtured in a public high school from a poor neighborhood of Belo Horizonte. The project is written and directed by Ana Carolina Soares (A Itinerante Filmes) and produced by Denise Flores (Vôo Livre Produções). This documentary wishes to contemplate the public school system and its people, hoping to expose the conditions which the teachers and student live with. This environment is undergoing a degradation of its physical space and social interactions, which is seen as dangerous by society and is neglected by the government. This project's proposal wishes to encourage new discussions and perspectives on public education, reporting the social context and violent situations that occur daily and are considered to be the norm.
Director: Ana Carolina Soares
Producer: Denise Flores
Production Company: A Itinerante Filmes
Project: LAND VESSELS | MG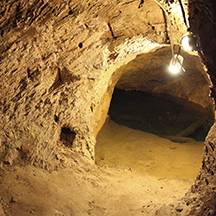 Director: Simone Cortezão
Producer: Matheus Antunes
Production Company: Cento e Oito Filmes